2019 has been quite a busy and exciting year here at The Ridge. Here's a look back at some of the activity over the past six months:
Rob was ECSTATIC to hear about the huge placement of Mark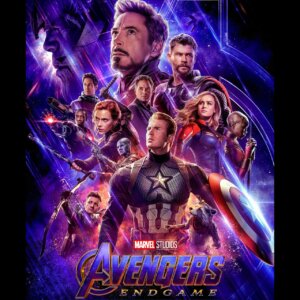 Petrie's track "Torsion" for the blockbuster movie "Avengers: End Game" from his Audio Network release "Big Sky". Congratulations to Mark & the folks at Audio Network! Check out "Torsion" in the Rob's LISTENING BOOTH. It is truly a remarkable piece of music.
Also for Audio Network, Rob mixed and mastered long time collaborator Mark Denis' newest Maximum Impact release "Uprising", and another seven song collection from Mark Petrie entitled "Approaching The Summit".
For Position Music…Rob mixed and mastered composer Adam Peter's upcoming release "Time Machine", a collection of twelve uniquely crafted tracks featuring his dark and edgy manipulation of cello, synths and orchestral elements. Adam's a genius writer and musical mind and Rob always looks forward to collaborating with him. Jake Versluis produced.
Also for Position are two new releases from Mark Nolan. First is "Primacy Down", a wickedly bad ass collection of twelve cues featuring Mark's massive percussion and assaulting grooves blended with aggressive synths, noise and mark's unique stylization of orchestral elements. The second release is Mark's fifth Trailer album for Position entitled "Sounds Of Maelstrom", featuring twelve dynamic and dark tracks from a composer who is as unique and original sounding as anyone. Rob mixed and mastered both and Jake Versluis produced them.
Rob had the pleasure of mixing and mastering Erick Devore's new release for X-Ray Dog / BMG entitled "Last Dog Standing". It was a blast having Erick down to The Ridge….more Scotch please! Mitch Lijewski produced.
And speaking of the great Mitch Lijewski, Rob was honored to mix and master a number of tracks for Mitch's newest venture Audio Socket / Atomic Overture. As always, the music is stellar with contributions from great composers like Mike Rubino, Chris Field, Tom Salta, Richard Birdsall and Luciano Storti. Here's to wishing Mitch & crew tons of success!
Rob is thrilled to be a part of producer / mixers Wally Gagel & Xandy Berry's new library Audio Wax. Distributed by Killer Tracks and executive produced by Ryan Perez-Daple, Audio Wax utilizes some of the best writers, musicians and vocalists LA has to offer to create cutting edge and very contemporary pieces of music. Rob's mastered seven titles to date, with many more coming throughout the year.
For Twelve Titans and producer David Edwards, Rob mixed and mastered "Dominion", a collection of five hard hitting and explosive percussive and synth driven tracks.
That guy Mark Petrie was back again with another killer track for Audio Machine entitled "Distant Wonder". You really run out of adjectives to describe just how great Mark is…Paul Dinletir produced the piece.
More great stuff from long time pals Pitch Hammer Music's Veigar Mareirsson & Brian Brasher, including new releases "Aggressive Action 3", "Minimal Builds", "The Haunting" and a clever collection of classical pieces delivered in a modern, over the top trailer-like style. "Fun Classical Covers" is the brainchild of composer Tony Fiala and features classics from Beethoven, Johann Strauss, Tchaikovski and others. Veigar produced them all.
For Immediate Music / BMG, Rob mixed and mastered "One Will Rise", 17 dynamically charged orchestral / hybrid tracks. Jeff Fayman produced.
Rob mixed a gorgeous collection of music from composer Magnum Opus for the Endemol Shine Group. "Uplifting Strings & Piano" is exactly that. Twelve pieces featuring beautiful, emotional and soaring melodies recorded in Budapest and performed by the Hungarian Studio Orchestra.
Rob collaborated with long time friend Steve Ouimette on three new releases for APM. For The END GAME label there's "Dark Trap Beats Vol. 1" featuring real deal hip hop tracks and performances from Deploi and Excel Beats. And for the SIREN label, two new sets, "Modern Hybrid Sci-fi" & "Artificial Intelligence".
Recent projects for Killer Tracks and producer Carl Peel included a new set mastered by Rob from the legendary Chuck D entitled "Time".
Happy summer all from Rob & The Ridge!